Volunteer for us
Volunteers are the lifeblood of our organisation, helping us to source, sort and gift books and to create new reading communities. Every person that supports us either through running a Book Drive at their school or organisation or that comes to our unit in West London to help sort and box books plays a vital role in ensuring we can gift over 100k books each year to children with few books of their own.
LOCAL VOLUNTEERS
We run regular book sorting sessions during school term-times and occasionally also at half-term. Typical jobs may involve checking the quality of books, sorting them by age and stage and packing up for gifting to schools. We are a COVID-19 secure workplace and continue to operate during the current lockdown.
Click here to access our volunteer portal. You will be able to see available opportunities as soon as you have registered. Please note that your details are not shared with anyone else.
Mobile friendly form
Desktop form
CORPORATE VOLUNTEERS
We are proud to welcome volunteers from Chelsea Football Club, KPMG, Disney Corporation, Innocent, The Writer, Pernod Ricard, DCMS and RBKC amongst other organisations. A corporate volunteering event runs for a half or full day for between 6-20 people and will include book sorting and packing, depending on our current campaign. They are social events with a high degree of hands-on involvement and we love them.
We ask companies for a £100 donation for a half-day corporate volunteering event including a presentation about our work and refreshments, or £150 for a full day. We are a COVID-19 secure workplace and continue to operate during the current lockdown.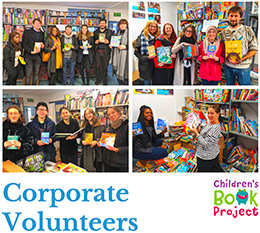 Fundraise for us
It costs just £162 for us to gift 650 gently used books to children within an average sized primary school. This equates to £10.20 per class, or merely £0.34 for every child to receive an equivalent of 1.5 books.
If you or your organisation can fundraise on our behalf, we would be hugely grateful!
We can provide fundraising ideas, resources, promotional support and potentially even volunteers. Email liberty@childrensbookproject.co.uk for further information.
The Queen's Award for Voluntary Service

We are proud to announce that in June 2020 the Children's Book Project was recognised with the highest award a voluntary group can receive in the UK.
The Queen's Award for Voluntary Service recognises outstanding work in the local community and excellence in voluntary activities. We couldn't be more proud to have been chosen to receive this annual award, which is the equivalent of an MBE for voluntary groups and which reflects the considerable effort, energy and drive that has led to our charity's ability to support more than 65,000 families annually.
Our award is for everyone that has given their time in some capacity to support our work over the past six years, whether book sourcing, book sorting or distribution, gifting events in schools, fundraising, advocacy or other support.
Thank you to our supporters
We would like to say thank you to every organisation that has supported us to date, whether financially or in kind. We are run entirely by volunteers and really appreciate all corporate support.