The Children's Book Project
The Children's Book Project is a registered charity. We work with settings across the UK to redistribute thousands of new and gently used books to children and their families.
Founder Liberty Venn is a researcher and parent of two children living in West London. In the course of her work with literacy-oriented charities and with children's publishers she became aware of the positive role that early access to books plays in children's development and in their outcomes.
She is passionate about helping children to enjoy books and to read for pleasure. Where children become immersed in stories and with characters, they enjoy themselves and without realising, their literacy improves.
At this point, children make the leap from 'learning to read' to 'reading to learn'. Suddenly reading material of all types presents ideas for discovery. Learning at school is hugely aided. Books become an exciting source of information as well as enjoyment.
Our Trustees
Kath Sloggett (Chair of Trustees)
Kath has over 15 years' experience in launching and leading businesses having held CEO and FD roles, including at Everyman Cinemas, and having co-founded two previous businesses. She is currently the Founder/CEO of Runneth, a career coaching consultancy.
Kath began her career at PwC in Sydney, before relocating to London and taking on commercial roles at Coca-Cola and BT. She has previously been the Chair/NED of Crescent Amenity, a not-for-profit organisation. She is a member of Chartered Accountants (ANZ), a member of the Institute of Directors and is an Alumnus of London Business School. A book lover, she is passionate about the importance of reading and books on young lives. She lives in London with her husband, two kids and a sweetly scruffy cockapoo named Oreo.
Lisa Harrington
Lisa Harrington is an internationally experienced executive and non-executive. She has spent 25+ years in technology and transformation roles across telecoms, business services, public sector, education and utilities. She has 12 years' Board experience and currently sits as a Non Executive Director on the Board of Post Office UK, TrueSpeed Ltd, Supporting Education Group Ltd and Digital 9 Infrastructure Plc. She also advises the Cabinet Office on their digital transformation journey.
Lisa started her career as a teacher. She is passionate about the importance of literacy and loves nothing more than a good book.
Ran Holst
Ran worked in commercial production and advertising for almost twenty years, latterly she was head of production of 2 production companies with a raft of international film directors, clients and complex logistical delivery expectations. She is Governor and co-comittee chair of her children's outstanding primary in East London, whose profile closely matches those that the charity seeks to support.
Anthony Mannix
Anthony started his teaching career in Southall, West London where he had the opportunity to support a diverse community which included travelling families. He later became the traveller liaison teacher for Ealing before adopting a leadership role in a three form entry Westminster school. During this time he played a key role in supporting the drive to provide books and educational resources for the high number of refugee families in temporary housing. He is currently a serving Headteacher in a large community primary school in North Kensington and is a governor at a local nursery school. He is passionate about engaging families in lifelong learning and nurtures a love of reading for pleasure.
Lizzie Norton
Lizzie began her working life in publishing, mainly children's books, and has always retained a love of reading and books throughout. Whilst she diversified into the travel industry and ran her own successful business for over 20 years, she is delighted to have returned to her first interest and welcomes the challenge of creating a new generation of readers.
Chris Shepard (Treasurer)
Chris is a Partner in a City based accountancy and investment management firm. He has looked after the tax affairs of trusts and charities for thirty years, providing advice on philanthropy where relevant.
Awards and press
For press enquiries email liberty@childrensbookproject.co.uk.
| | |
| --- | --- |
| March 2019 | Received a Points of Light Award from the Prime Minister's Office |
| June 2020 | Received the Queen's Award for Voluntary Service |
| Sept 2020 | Received an RBKC Mayoral Award |
| June 2023 | Featured on BBC London News to celebrate our one millionth book |
| October 2023 | Featured on BBC1's programme The One Show's One Big Thank You |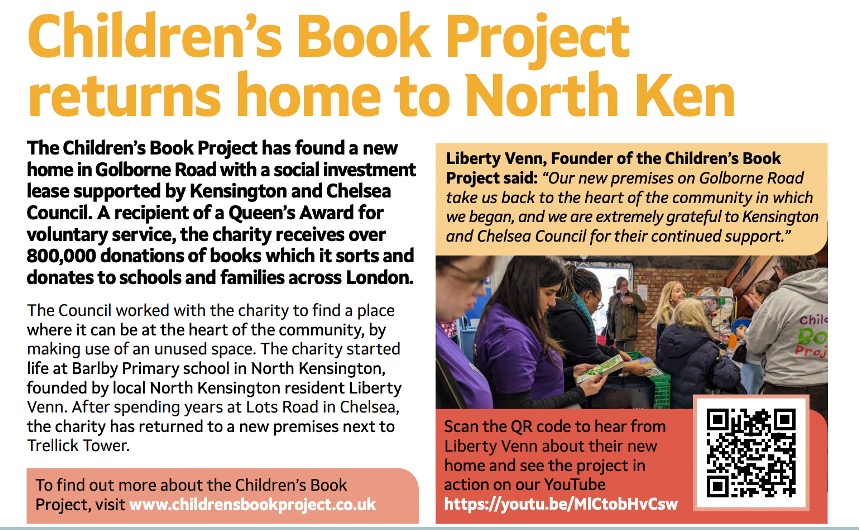 The Queen's award for voluntary service
We are proud to announce that in June 2020 the Children's Book Project was recognised with the highest award a voluntary group can receive in the UK.
The Queen's Award for Voluntary Service recognises outstanding work in the local community and excellence in voluntary activities. We couldn't be more proud to have been chosen to receive this annual award, which is the equivalent of an MBE for voluntary groups and which reflects the considerable effort, energy and drive that has led to our charity's ability to support more than 65,000 families annually.
Our award is for everyone that has given their time in some capacity to support our work over the past six years, whether book sourcing, book sorting or distribution, gifting events in schools, fundraising, advocacy or other support.