OUR RESPONSE TO COVID-19
The lockdown of schools to all but identified groups of children meant that we were unable to deliver our standard model during the summer term. Instead, we worked with Head Teachers and developed a new approach – bundles of hand picked books that could be gifted in person to children at home or via a school's Food Bank.
Over ten weeks teachers in over 130 schools hand delivered and gifted 62,000 books to children across London and Oxfordshire. Staff went to extraordinary lengths to reach their most vulnerable pupils and used the opportunity to check on each family's wellbeing and to signpost other services where necessary.
A report of the activities can be downloaded here, including findings from our July teacher survey which looked at parental concerns and needs during this time.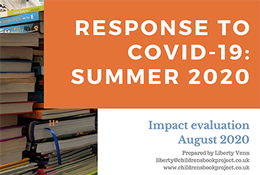 OUR WORK IN PRISONS
The Children's Book Project is working with Serco Group plc to test a book gifting initiative that invites men to voluntarily sign up to visit a pop up bookshop hosted on site and to choose a free book for each of their children. The books are then posted by the prison service directly to families. Pilot activities have sought to understand engagement, the most effective delivery model and crucially, any direct and perceived impact on interactions between fathers and their children.
OUR AIMS
To date we have gifted to 475 schools and organisations across London and the South East where our core aim has been to address the disparity of book ownership amongst children and young people. At present one in eight disadvantaged children owns no books of his or her own, whilst one in four owns fewer than ten books*. In February 2021 we expanded to schools and other settings across the UK so that families nationwide can find new homes for the books their children have grown out of.
We help to address this book gap by gifting good quality, gently used books to children within communities with a high level of disadvantage. We work with schools that support > 25% pupil premium (a measure of disadvantage) but also with organisations that target discrete groups in need.
However, alongside this we also want to support reading communities and to foster enjoyable and immersive gifting events. We believe that a child will engage strongly with a book that he or she has chosen for themselves and that they can take home and keep. We work with settings to help them deliver creative, memorable gifting events that elevate books from their second-hand status to something desirable.
MEASURING IMPACT
We gift to settings across the UK with >25% pupil premium. Outside schools the settings that we work with commonly support a very high level of need.
In the past 12 months we have gifted to 110,329 babies, children and young people. At least 80,000 of these children live in economic disadvantage.
TARGETING THE RIGHT AUDIENCE
We support settings that support a community with a high level of disadvantage.
Amongst the schools that we have supported since launch the average % pupil premium* is 43.4% (national average 23%).
Gifting to every child in each community we support means that books are sometimes gifted to young people that already have books of their own. However, gifting to every child reinforces reading communities and collectively celebrates the books on offer. Children aren't singled out as being in need and do not feel judged in any way.
REACHING A SIGNIFICANT NUMBER OF YOUNG PEOPLE
We work with a wide variety of settings but most closely with primary schools. This route permits us to reach large numbers of young people within a dynamic environment that can tailor activity to their community's interests and abilities.
Practitioners in each school design gifting activities that resonate strongly with children whilst their wider relationships with parents and carers ensure the greatest reach.
"The best thing about our Pop Up Book Hut was the dialogue between parents and carers and children about the books they discovered inside."
We have also gifted to a number of groups that support vulnerable mothers, to a number of pre-school groups, to a prison family liaison event and to a foodbank. These settings reach a smaller number of young people but the need they support is significant.
OFFERING A RELEVANT PRODUCT
Our Pop Up Book Huts and Pop Up Bookshops have been designed to appeal to young people aged 5-11 and to work flexibly within the widest range of settings. Continuous feedback from schools helps us to develop these models.
We run creative focus groups in schools to help design our Pop Up Bookshop content and other gifting activities.
ASKING FOR FEEDBACK
Every setting that receives books is asked to complete a short questionnaire detailing the perceived impact of their gifting event within their community. Key outputs from the latest data-set follow.
"The children talked about the bookshop and the books they chose for a long time afterwards. We had groups of children agreeing to swap books after they finished reading their own book. These children previously found reading boring."
"We were thoroughly surprised and grateful at the amount and wide range of quality texts! The children enjoyed visiting the book hut during the school day, having a chance to explore, read together and then sharing their new favourites with their classmates. It was great to see the children getting excited about choosing and sharing the books."
"It has been fantastic to see children of all abilities from all year groups discussing books with each other, making recommendations and visibly enjoying reading. For some of our children, the books taken from the hut were the first ones they've ever owned. We had many questions of 'do we really get to keep it'?"
"It has been fantastic to see children of all abilities from all year groups discussing books with each other, making recommendations and visibly enjoying reading. For some of our children, the books taken from the hut were the first ones they've ever owned. We had many questions of "do we really get to keep it"?"
* Pupil premium is an amount paid to a school on behalf of every child whose net household income is lower than £7,400.
Independent Bookshop Book Drive 2020
In June 2020 as shops began to re-open, we approached a small number of independent bookshops to explore the idea of them operating as local 'hubs' taking in donations of gently used books from families nearby.
The response was overwhelming: in just 4 weeks from conception to completion, 14 bookshops collectively took in over 6,000 donated books on our behalf. The response was unanimously positive: despite the many concerns about re-opening after two months, independent booksellers all recognised the opportunity this gave them to both support children with few books of their own and to engage with their existing customers. A full report of the campaign can be read here.